Getting His Props: Talking with Hollywood Property Master, Russell Bobbitt
Written by Demetria Dixon
What do "Star Trek," Iron Man," "Iron Man 2," "The Hangover," and the latest Marvel property slated for the big screen"THOR," all have in common? They all feature the consummate artistry of Property Master, Russell Bobbitt.
Chances are, that unless you're a film buff or an industry insider, you may never have heard Russell Bobbitt's name but you've seen his work in over 50 feature films. Bobbitt's work ethic, attention to detail and craftsmanship have earned him numerous accolades. Most recently he was feted with Hamilton Watches, "Behind the Camera Award" for his work on "Iron Man". Hamilton, in association with Hollywood life Magazine gives the "Behind the Camera" award annually. According to Hollywood Life Magazine, honorees are selected for their "Attention to detail in their craft, their devotion to their projects, and their grace under pressure." Fresh from the wrap of "Iron Man 2," Russell took time out to sit and talk with me about what a feature film Property Master does and what it's been like to work on some of the biggest films with many of the biggest names in cinema.
Q Russell first of all, I'm honored that you'd take time out of your family time to chat with us about what you do.
A I'm honored that you would ask me. Thank you. The truth is I'm just a guy who is blessed to get to do a job that I love and as a bonus I get to hang out with some pretty cool people.
Q How did you get into the movie business?
A My mom was dating a set decorator. His name is Bob Gould. During that time our house burned down and we were literally left with nothing. Bob said, "Hey why don't you come and work with me? You can earn some money to put some clothes on your back."  I worked hard for 3 weeks and made about $1,000.00.

Q Did you have any idea this was the beginning of your career?
A I really had no idea that it was the start of a career at all. That was in 1981, and since then I've only been out of work for about 3 weeks.
Q Tell me about your career progression.
A As I mentioned, I started in set decorating department. Shortly thereafter I met Property Master Doug Fox. He recognized my work ethic and invited me to join him in the Property Department.  It was on a film called "Road Trip" (not the recent one). I ended up assisting him for two years. The Property Master maintains a separate budget. Doug sat me down and showed me his budget. I understood it and finally I could see how everything worked. I also had the drive to do it. I really took to it early on and I liked it enough to continue. Now I'll never hire anyone who's just in [the job] for the money. If you come and work for me, I want to know you have a passion for what you do. That's the only way it works consistently.
Q Working on the "Iron Man" franchise and the new "Star Trek," I imagine attending Comic-Con is pretty big deal? Did you get a chance to attend this year? Also how have the fans reacted to the new "Star Trek" items like the Phaser and the Communicator?
A: Comic-Con is about the fans. Everyone is excited to be there and they are genuinely interested to see how true we've stayed to the lore of the comic book. It's a fine line because we have to try and please those die hard fans but we also want something that seems new and innovative. Comic-Con is a win-win for the fans and the production. I didn't attend this [past] year but Iron man was represented by four or five "Iron Man" suits. Jon Favreau, the director, went and met with all the fans. There was also a teaser trailer for "Iron Man 2", which was very well received. With "Star Trek" there were different concerns to address [like] how to appease the fans, the director and the actors. What makes the fans happy is everything "1960's Star Trek." My challenge [as the property Master] is how to take those props and make them cool. Then it hit me. We all have them with us everyday. The cell phone. How do I take [the cell phone] to another level? I made a hybrid that made everyone happy.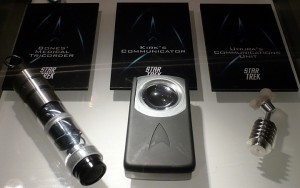 Q: So people do take you to task if they think you missed the mark?
A: People do call me. Part of that also has to do with the fact that I don't mind answering their questions. But, for the most part, the fans have been really complementary about the updates to the "Star Trek" props.
Q: How true did you have to stay to the "Iron Man" comic books to appease the hardcore, Marvel fans?
A: There were Marvel reps on set to make sure we were staying true to the material. However, we had to adapt some things to enhance the movie's appeal and give the movie going public, the eye candy they require.
Q: I understand security was really tight on the "Iron Man 2" set?
A: There was high security, but that is true of all the Marvel properties. While security was tight, the atmosphere was a little more relaxed than the first "Iron Man." We had a lot of security protocols. Everyone had three ID badges that determined who had access to what parts of the set. During big background scenes we had to confiscate everyone's cell phone. For phones used in scenes we had to number each one and no one could be released from the set until every phone was accounted for. I went through and downloaded some 400 photos from the prop phones. 200 of the photos were of Robert Downey. The security measures seem stringent but they are for the benefit of the fans and the studio. I mean, the studio wants to release a film that is exciting and timely.
Q: How important is the team that you work with? Do you have a core team that you work with consistently?
A: Yes, I have about six people that I work with on regular basis. They are my core team. However during the large scale building, manufacturing and designing, we have somewhere around 120 people. There are draftsmen, mold makers and painters, etc. During this phase everyone is extremely critical in helping me bring the filmmakers vision to the screen. My core team helps me, physically, get everything coordinated and maintained. They also help keep continuity and make sure that everything matches from scene to scene. Each has a their own niche within the team. I try very hard to keep the same people . I'm one of the lucky ones. I keep people pretty busy.
Q: To what do you attribute your success?
A: First of all, I'm very, very lucky. I landed in the right place at the right time. That's my modest answer. The reason is, that I'm a Prop master who likes to stay on the set. Many Property Masters prepare the props but they don't spend time on the set. They send their team. I'm very hands on. I provide a quality service. That's why I get called back I've learned to anticipate and intuit what's needed.  I have a story that shows why this is important. It illustrates how you make an impression in this business. I was working on "Guilty By Suspicion" with Robert Deniro. In the movie, he plays a Hollywood director in 1954. In a scene he has to buy a cop of coffee. I went to this coin shop and purchased coins from 1954. After about the seventh take, Deniro looks down at the money. He stops the scene and makes an announcement to the effect of, "This is amazing. All my coins are from 1954." He remembered that. The fact that I took that extra step. He hired me to do "The Good Shepherd" with Angelina Jolie and Matt Damon because he remembered that.
Mine is a hands on manufacturing job. It's imperative that I know where to get what I need. I call it the "10 minute challenge." If I can't do something, I can find someone who can do it within 10 minutes. It's a collaborative effort. In any creative business, if you understand how to use the talented people around you, then you end up with a much better product.
Q;What is it like working with some of the biggest names in the known universe? Do you get starstruck or is it just another day at the office?
A;After awhile it becomes just another day at the office. Of course you become starstruck. For me it was working with Robert Deniro. Within a few minutes it passes. They are human. They are going to lay their heads down on a pillow very similar to the one I'll lay my head down on. I work first hand with these actors on a daily basis. The more human you treat them, the more comfortable they will be with you. I am very fortunate, I get to work with these guys while a lot of people are going to jobs they hate. I completely appreciate what I have. It hits me sometimes. It's a very satisfying life.
Q: You work in a variety of genres. What do you do differently for a movie like "The Hangover?"
A: All stories differ from one another. You certainly have to dive deep into the genre of film you are working on.  Films like "The Hangover"  (comedy) present many challenges in that there are many site gags. For instance there is a scene where kids shoot stun guns at other human beings. Clearly we would not do something like this without making it safe for the actors. One of my responsibilities is to design a safe, but realistic, way of pictorially portraying that scenario. So I go to the drawing board and figure it out how. Rubber darts flying from the stun gun, lights that appear to be electrodes but are actually harmless, versions of darts that we glue to the actor with hypoallergenic glues to make them look like the are stuck into his head, Child friendly projectiles, etc. Watch The Hangover and you will see the gag I am referring to.
Q: Do you have any humorous Prop stories?
A: Yes, I do but most of the best one's I can't repeat. Oh I do have one. In Bram Stoker's "Dracula," by director Francis Ford Coppola, Sadie Frost had to make love to a wolf that turns into a man. They had this wolf puppet costume, and someone had to wear it and puppeteer the wolfs head. They chose me. So I'm in bed with Sadie Frost wearing this wolf costume. I'm sweaty and hot moving my head around like I assume a wolf making love would while turning into a man would. Lets just say that things got real hot, real fast. After-all it gets hot in wolf costumes 🙂

Q: You're kind of a renaissance guy. I know you also do beautiful die cut iron artwork. How did you get started with that?
A: You're only as good as your tools. For my work, I have a workshop and I have a c n c plasma cutter. It cuts steel. in between films, I get bored. I try to keep my creativity active. If you don't continually use your creativity it'll fall asleep. I was just messing around with the plasma cutter and thought to play with some cool shapes. I threw the pieces into the machine and liked what came out. It started out as a hobby, but people saw them and liked them. After the pieces are completed, there is no paint or stain applied. I treat each piece with natural minerals. The reactions of the minerals with the steel results in different color gradations. I sell mostly to other people in the industry.
Q: You've also tried your hand at producing with the film, "Mama Dolly" and a series of professional development DVD's ["How 2 Make it in Film and Television" and "How 2 Make it as an Actor" hosted by Chris Harrison]
A: "Mama Dolly"* was a short film I shot with Zelda Rubinstein. She played "Mama Dolly". It's about this woman who went fishing everyday in the hope of finally landing the 'big catch.' *Mama Dolly won the HardAcre Film Festival's Award for Best Comedy Short Film in 2006.
I also wrote, produced and directed the "How 2" DVD's. They were created to help people interested in getting into the film and television business.  We interviewed award-winning actors [Jason Bateman, Dennis Haysbert], directors [Brian Levant], producers [Stuart Cornfield], costume designers, make-up artists and other crew about [their jobs] and pointers for getting started in their line of work and about how to have longevity in the business. They were both really great and very informative, but expensive to make. Although, we made the series in 2004 the information is timeless. If your readers are interested in obtaining copies of these, have them contact me on my website.
Q: So what's up next for you?
A: I've got several things going. I'm currently working on the new Marvel project and may be working with both Todd Phillips and Jon Favreau again.
Q: For those who are interested in the business can you tell me what a Property Master, isn't?
A: There's a very thin line, between the Property Master and the Costume Designer. I do watches, rings and sunglasses for men, while the costume designer is responsible for those items for the women. There is also a thin line between what I do and what the set decorator does. I handle everything the actor touches: glassware, fake ice, trays, food. But I don't do the chairs or tables.
Q: Let me take you back a bit. Share with me when you first knew that you might be a gadget guru?
A: It would have to be a day when I was 6 years old and had recently acquired my first real tool box. I look over at a spinning record player (that is how we used to listen to music) and I was so intrigued by the movement of the machine. My curiosity took over as I proceeded to take it apart piece by piece. I needed to know how it worked. That is not the moment of inspiration…Yet. The moment of inspiration was when my mother walked into the room to see "her" record player sitting on the floor in approximately 225 pieces and exclaimed "PUT THAT BACK TOGETHER, RIGHT NOW" and so I did. Piece by piece. And at the end of a 20 minute reconstruction period, it worked. I didn't know then that I would become a Property Master. But I did know that If I set my mind to it, I could do anything. So looking back, that may have been a turning point that may have lead me here today. Thanks Mom
Q: I met you through you wife, Tracy and I'm a sucker for a good love story. Tell me how you two met.
A: Prior to our meeting she'd quit her job as a gun toting private investigator and was looking for work. I was working on "Sgt Bilko" at the time. Tracy's friend who owned an extras casting company brought her in to work and she was cast as a cocktail waitress. [Tracy] had this beautiful, long blond hair. Of course as the Prop Master, I was in charge of providing the prop trays and drinks. I saw her and immediately thought she was way out of my league. She was uncommonly beautiful and we were working together shooting this scene for about three days. When the scene was almost over and we were going to be moving on, I knew I had to do something. I handed her the last drink for the scene, and said something like, "I've got to ask you a question.. Are you at all attracted to me?" She said yes, and I responded that we should start dating or whatever you do next. As it turned out, she was about to leave for Chicago. I told her "You can't just leave for a week like this." I went over to her apartment that evening and we talked all night. When she returned we started dating and we've been married 14 years.
Q: Your daughter Jordan is in the business. Were you supportive?
A: I am now, but I held her back for a long time. I know the pitfalls in this business and I also know what goes on, on sets. Finally she came to us and told us it was what she wanted and she was willing to put in the work to be good at it and she has. She's studied at the Lee Strasberg studios in New York and Los Angeles. She got a role in "The Hangover" as well as a scene in "Iron Man 2."  She's serious about her craft and I am supportive of that.