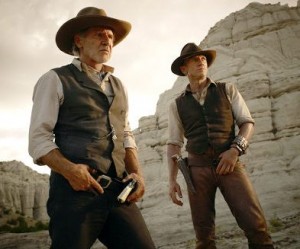 Excerpt from the article:
From rare period firearms to Olivia Wilde's proper underwear, the movie features an array of intricate 1870s nuggets apparent to shrewd observers and true fans of the genre. "The authenticity was really important for us," star Daniel Craig says. "It's all about the sophisticated moviegoers getting the most bang for their buck."
Here's a breakdown of the film's top hidden gems:
Handsome hardware. Nothing says Western lawman like his star. The blacksmith hired by prop master Russell Bobbitt forged each nickel-plated brass badge using methods from that time. "There are a lot of store-bought badges you can get," Bobbitt says. "But these had the right look, feel and the weight."
Ford's pistol. Craig uses one of three authentic pistols Bobbitt rustled up from collectors around the world. "There were a few actors jealous they didn't have that piece," Bobbitt says. "They are very hard to find."
Ford was convinced his affluent cattle-rancher character would have used a Colt Peacemaker. One problem: Colt wouldn't give up the showcase revolver.
"Not even for Harrison Ford," Bobbitt says. "But we loved it so much we replicated the piece that's sitting in a museum."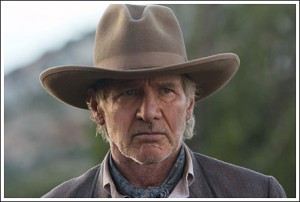 The filmmakers rebuilt the gun down to the pearl handles while making changes they saw fit. For example, the trigger was adjusted to accommodate Ford's index finger, which is still affected by an old injury. The two replicas are so stunning that Ford is working through the paperwork to acquire them. "Jon is making a deal with him to own one, but Harrison will get the other," Bobbitt says. "They are really cool."